SUNSHINE I CLASS
Keyboard Class for kids 4 years old
4歲鍵盤音樂班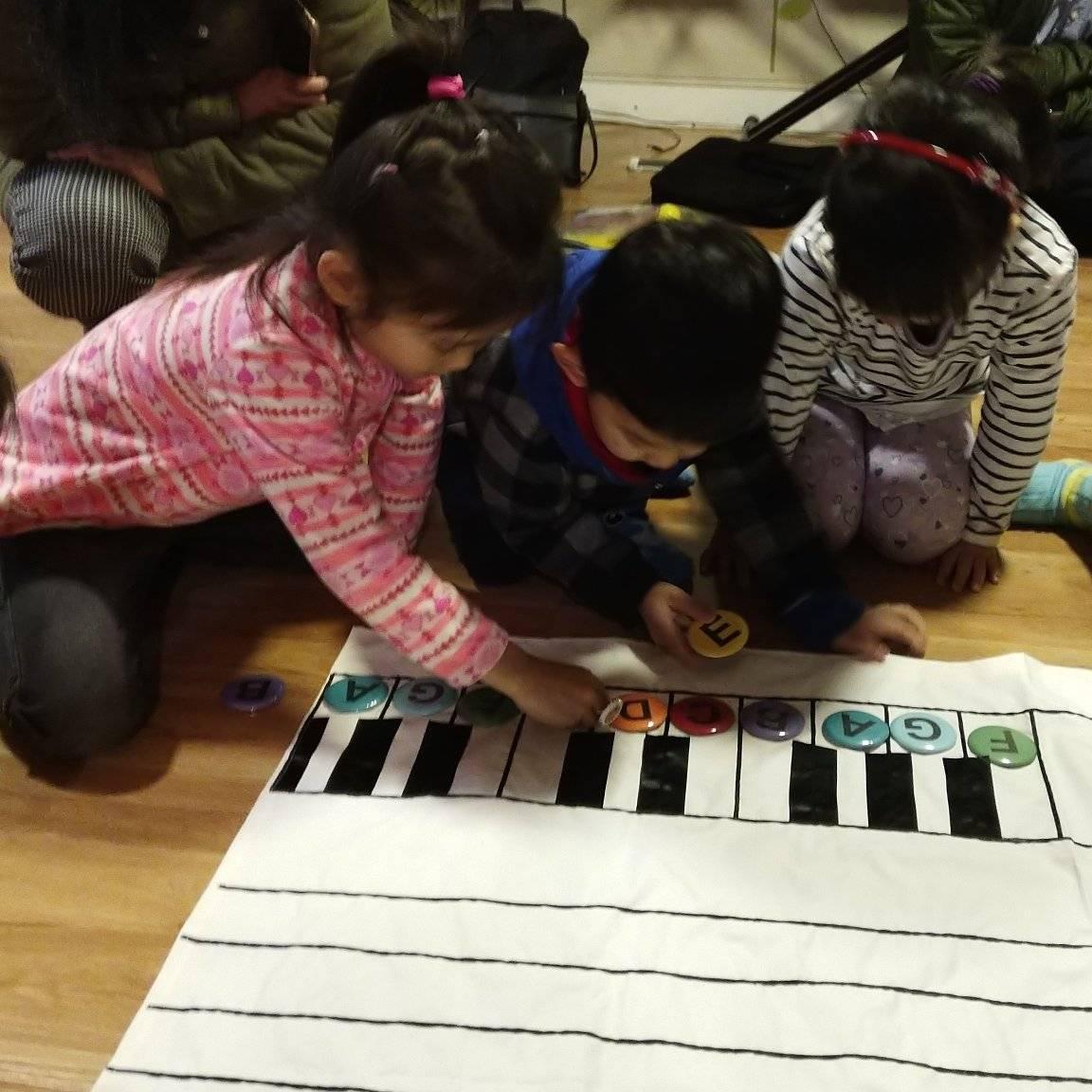 已額滿, 候補名單開放!
Class is full, Wait-list is now open!

Sunshine I is the starting point of learning on a keyboard, designed for 3-4 year old beginners. The class builds their foundation in music reading and playing the piano. Students experience movement through beats and rhythms, as well as developing their fine motor skills with rhythm instrument ensemble playing.
SUNSHINE I 是一堂 "專門" 為4歲孩子設計的課程.
課堂上以孩子適齡的活動, 配合孩子認知能力,小肌肉的發展速度來進行教學.
鍵盤音樂班 - 鍵盤,只是其中的小小部分, 所有基本音樂認知才是教學重點.
透過活動/曲子/故事/互動,讓複雜的音樂元素, 快快樂樂卻扎實地讓孩子吸收.
扎實的音樂基礎, 讓孩子將來在學習其他樂器也會更容易上手!
課程內容與活動包括:
The SUNSHINE I class will cover all of the following:

◆Keyboard 鍵盤認識
◆Singing 歌唱

◆Rhythm Practice 節奏訓練

◆Ear Training 聽力訓練

◆Movement 身體律動

◆Games 小遊戲

◆Finger Practice 手指訓練
◆Performance 樂器打擊
♦如您的寶貝9月未滿4歲,請報名SUNRISE♦
---
SESSION: 36 weeks (45 mins per class)
with 1 accompanying parent 須有一位家長陪同
Starting Date & Time: 09/04/2019 WED 5:30PM
TUITION: $1300 (Tuition paid in full receives discount)
MATERIAL FEE: $250 (A carrying bag with 3 books, 1 Activity book, 1 Instrument, Magnetic Staff Board and a set of magnets. 一個提袋, 3本課本, 1本作業本, 1份小樂器與1組磁鐵板)
REGISTRATION FEE: $30 ($30 waived before 7/31, 7/31前報名減免報名費)
PAYMENT CHOICE:
Tuition Paid in Full 一次繳清

(Tuition paid in full receives $100 discount 一次繳清減免學費$100)

3 Quarterly Installments 三期付款

Sep 1: Tuition $650+ Material

Nov 1: $325

Jan 1: $325
DEPOSIT: $200 Deposit (Non-refundable) to reserve the opening within 2 days after sign up. 訂金$200請於報名2日內繳交,以確保孩子的名額.
LATE REGISTRATION: $20 dollars--- Expedited Shipping Charge will be added to the tuition. 8/15後報名者需加收$20郵寄費用.
CLASS SIZE: Up to 8 students per class
WHAT YOU NEED AT HOME: A piano or a touch-sensitive keyboard. 家中需要一台鋼琴或電子琴.
STUDIO POLICY 填表報名時請仔細閱讀
Pre-Registration is required. Parents will be notified of the class status before starting date.
課程需事先報名.班級未達最低人數會通知並全數退費,請家長放心
♦如您的寶貝9月未滿4歲,請報名SUNRISE♦
已額滿, 候補名單開放!
Class is full, Wait-list is now open!
溫馨提醒:

孩子在學習才藝上,需要家長的鼓勵,堅持與陪伴!
積沙成塔,積水成河! 讓我們幫孩子建立正確的上課態度與良好的練琴習慣.

CLASS STARTS ON TIME 上課請準時
PRACTICE IS ESSENTIAL! 必須練琴,一星期五天,每天5-15分鐘
Studio 假期:
Thanksgiving Week 感恩節周, Christmas 聖誕節 Last Two Weeks of December, Spring Break 春假