POP PIANO WORKSHOP for Adult & Teenager
零基礎也OK的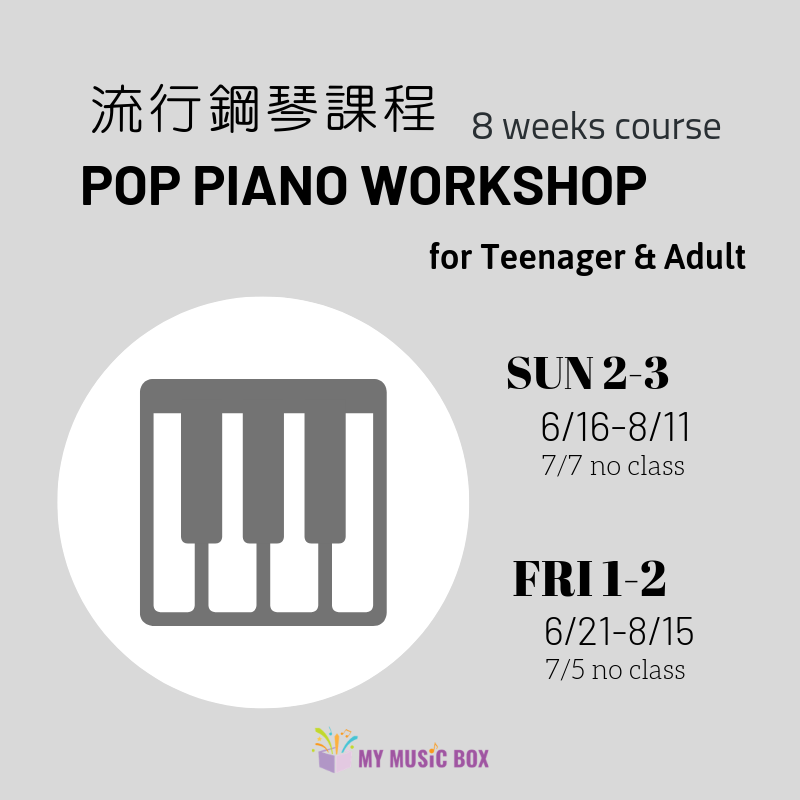 教室中常有家長告訴我們,小時候學過,但都忘記了. 手也生鏽. 想再彈彈琴.
也有說孩子小時候學過鋼琴,沒多久就放棄,現在卻羨慕其他朋友會彈琴.

這次課程,我們開放零基礎或對鋼琴生疏卻又想在開始的 成人與Teenager喔!
課程內容包含:
- 基礎鋼琴
- 基本樂理
- 流行歌曲
- 和弦伴奏變化

會教最基礎的,也會搭配容易上手的流行樂!
不要擔心,往前踏一步就能實現自己夢想!
趕快報名加POP PIANO 的行列吧♥
SESSION: 8 weeks (60 mins per class)
DATE & TIME:
SUNDAY 2-3pm ˊ6/16-8/11 ( 7/7 no class)

or
Friday 1-2pm 6/21-8/15 (7/5 no class)

FEE: $316
REGISTRATION FEE: $30
(6/9前報名減免報名費 $30 Waived before 6/9)
LOCATION: 30 N. 1st Ave.
Arcadia, CA 91006
🔶 名額有限, 趕快行動!
🔶 未達最低人數會全數退費
About the teacher:
Miss Marika is a composer and pianist from Japan. She has been playing piano since the age of three, and has played violin and French horn for several years. She holds degrees in film scoring and composition from the Berklee College of Music in Boston and Shobi Music College in Tokyo. She has released 5 albums of her modern classical compositions, and has written music for international short films, commercials and video games.